Ski Pad Training
Many healthcare premises purchase Ski Pads & Ski Sheets in order to effect swift horizontal evacuation or vertical evacuation in case of fire. Evacuation from any premises should not rely on `outside assistance' i.e. from the fire service. For this reason, care homes, residential care premises and similar types of premises now have to provide not only a plan to get every person in their care to a safe place, but the equipment to achieve the task. Most places have bought either Ski Pads or Ski Sheets (or like for like alternatives), Ski Pads normally being located at stair heads or Ski Sheets, under the residents mattress.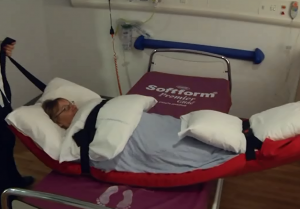 After investigation, many care premises fail to deliver appropriate training for this equipment. The CQC insist on all staff members receiving moving & handling training however, our survey found that hardly any premises provided specific training for either Ski Sheets or Ski Pads.
Solent Fire Safety Services now provide a short course specifically for the safe & effective use of Ski Pads & Ski Sheets.
Please call our office on 01794 514966 for information on this new course.

Registered UK Company: 06541495
VAT Registration Number: 930807334
Solent Fire Safety Services formally & legally trade as Solent Staff Fire Training Ltd
At present, our Fire Safety team operate in the following geographical locations…. Southampton | Portsmouth | Bournemouth | Poole | Eastleigh | Ringwood | Romsey | Salisbury | Wimborne | Ferndown | Winchester | Wareham | Christchurch | New Milton | Lyndhurst | Lymington | Fareham | Basingstoke, indeed anywhere in Hampshire, Dorset or Wiltshire.